How this was meant to work is nicely explained in the following quote (Knox , 1919):
The regulator (regenerative device) "consists of a little condenser which is made in the form of a cylindrical glass tube covered with an imperfect conductor of electricity. By special treatment this conductor is made to absorb a large quantity of gas. It is then covered with a second glass tube." . . . When the tube has become too hard, put the wire b of the regenerating arrangement in contact with metal cap d of the tube.. The other wire a has to be so far from the metal cap c that a shunt-spark passes. . . . The current produces some gas from the substance of the regenerating arrangement, and after a few minutes the tube will again fluoresce regularly. The regeneration, however, is only completed when the shunt-sparks have ceased to pass. After regeneration turn back both wires."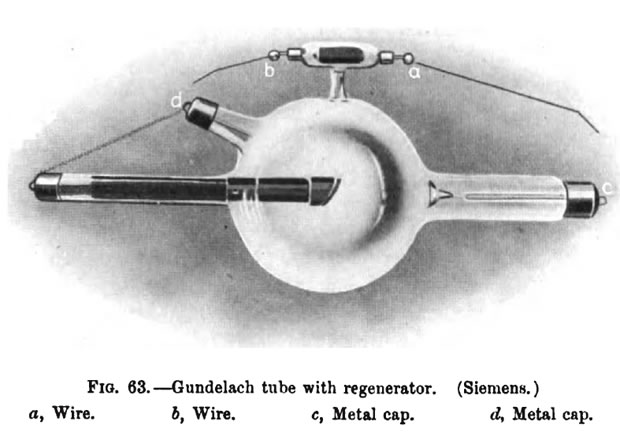 There are no visible markings on the tube at all, nothing that could help identify the manufacturer. Originally, I identified this as a Machlett & Son's tube, but the basis for that identification is no longer apparent. Although my brain was working better then (about ten years ago), I am now inclined to think that the tube is of European origin. It has a superficial resemblance to the Gundelach tube in the drawing above, but every Gundelach tube I have seen had the company logo on it.
Size: approximately 20" long with 8" bulb diameter
References:
Knox, R. Radiography and Radiotherapeutics. Part I. 1919.