1937: A Watershed Year for Tho-Radia Products
In 1937 a dramatic change was forced upon Tho-Radia when the French government placed significant restrictions on the sale of products that contained thorium and radium. In response, the company seems to have stopped the use of these ingredients (Lefebvre and Raynal). Despite the basis for its name, no longer would Tho-Radia contain thorium or radium. That same year, 1937, the Tho-Radia trademark was transferred to Alexis Moussalli. Alfred Curie and Tho-Radia went their separate ways.
From then until its demise, Tho-Radia had its ups and downs. World War II was a low point, particularly for Moussalli. On the other hand, the late 1940s and 1950s were a time of rapid expansion and publicity for the company. The end came in the early 1960s, primarily due to marketing inroads made by competitors.
Tho-Radia Lipstick (1940s, 1950s)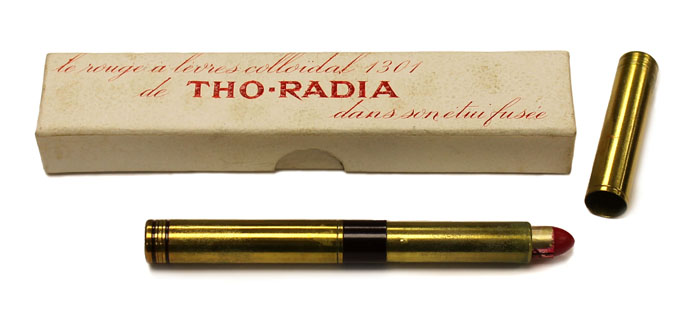 Size: ca. 1" x 6" x 0.75" (box); ca. 5" long x 0.5" diameter (lipstick tube)
The text on the box reads:
"le rouge à lèvres colloïdal 1301 de THO-RADIA dans son étui fusée"
A rough translation might be "Tho-Radia Colloidal 1301 lipstick in a tubular case."
The lipstick is not measurably radioactive - at least with an end window GM.
Tho-Radia Fard Poudre De Luxe (1940s, 1950s)