Tho-Radia Items (ca 1950s)
The next two photos shows a pair of advertising cards for Tho-Radia beauty products. As likely as not, they were used as part of a cosmetics display at a pharmacy in France. Exactly when they were used is another story—possibly as early as the 1930s, but more likely the 1950s. I think the containers for Tho-Radia Powder (Poudre) were different in the 1930s than those pictured on the card. There is a fold-out flap on the back of each card that permits it to stand on its own. Each card also has a pair of eyelets at the top that would allow it to be suspended.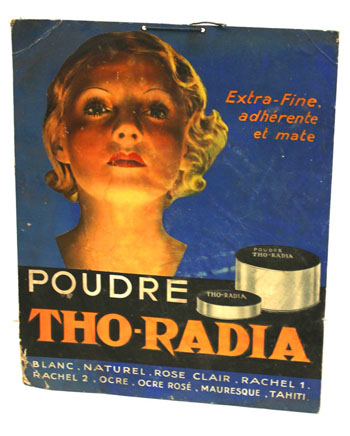 Size: Tho-Radia Cream card is 12.5" x 15" Tho-Radia Powder card is 11" x 13"
What is most notable about these cards is the iconic image—a beam of light from below that radiates upwards and outwards to bring beauty out of the darkness. The source of this light: radium.
The illustration is said to be the work of Tony Burnand (ca. 1933). Who the model might have been is less certain. Some have speculated that it was Jacqueline Donny (Miss Paris in 1947, Miss France in 1948 and Miss Europe in 1949).  Despite being a brunette, Mademoiselle Donny certainly bore a resemblance to the woman in the image, and at one time she even served as the "ambassadrice de Tho-Radia." The problem is that the image dates from 1933, well before Jacqueline Donny's modeling career would have begun.
The Early Days of Tho-Radia
Tho-Radia was founded in 1932 by the pharmacist Alexis Moussalli. His intent was to create a line of cosmetics incorporating rare earths such as thorium and radium. 
Moussalli brought the physician Alfred Curie on board as a figurehead in order to capitalize on the name made famous by Pierre and Marie Curie. Alfred might have shared their name, but he was no relation. The "real Curies" were not amused and they investigated the possibility of legal action against Tho-Radia, but the matter doesn't seem to have gone to court.
The company's signature product was Tho-Radia cream which was supposed to activate the circulation, firm the tissue, remove grease, remove wrinkles, etc., etc. (Lefebvre and Raynal). It was said to be prepared by Moussalli according to a formula that was attributed to Alfred Curie.
Tho-Radia Cream and Tho-Radia Powder
In 1932, the cream was analyzed by the Laboratoire de recherces scientifiques de Colombes and certified to contain the following:
"0,233 microgramme de bromure de radium (RaBr2, H2O) pour 100 grammes de crème." 
Unfortunately, the 0.233 micrograms of radium bromide was subsequently expressed as 0.233 mg (i.e., 0.233 milligrams) when it should be 0.233 ug.  So that there is no confusion, 100 grams of Tho-Radium cream contained:
0.233 ug of radium bromide
0.5 g of thorium chloride
Tho-Radia powder also used a formula attributed to Alfred Curie wherein 100 grams of the powder contained:
0.01 ug of radium bromide
0.1 g of thorium sulfate
4 g of titanium oxide
Many of the other Tho-Radia products contained thorium, but none ever employed radium.
That the Tho-Radia powder seen below is from the 1940s or 1950s is suggested by the fact that the label on the bottom of the container (image below right) make no mention of the Curie formula.
Size: Cylindrical powder container is 2.75" diameter, 1.5" high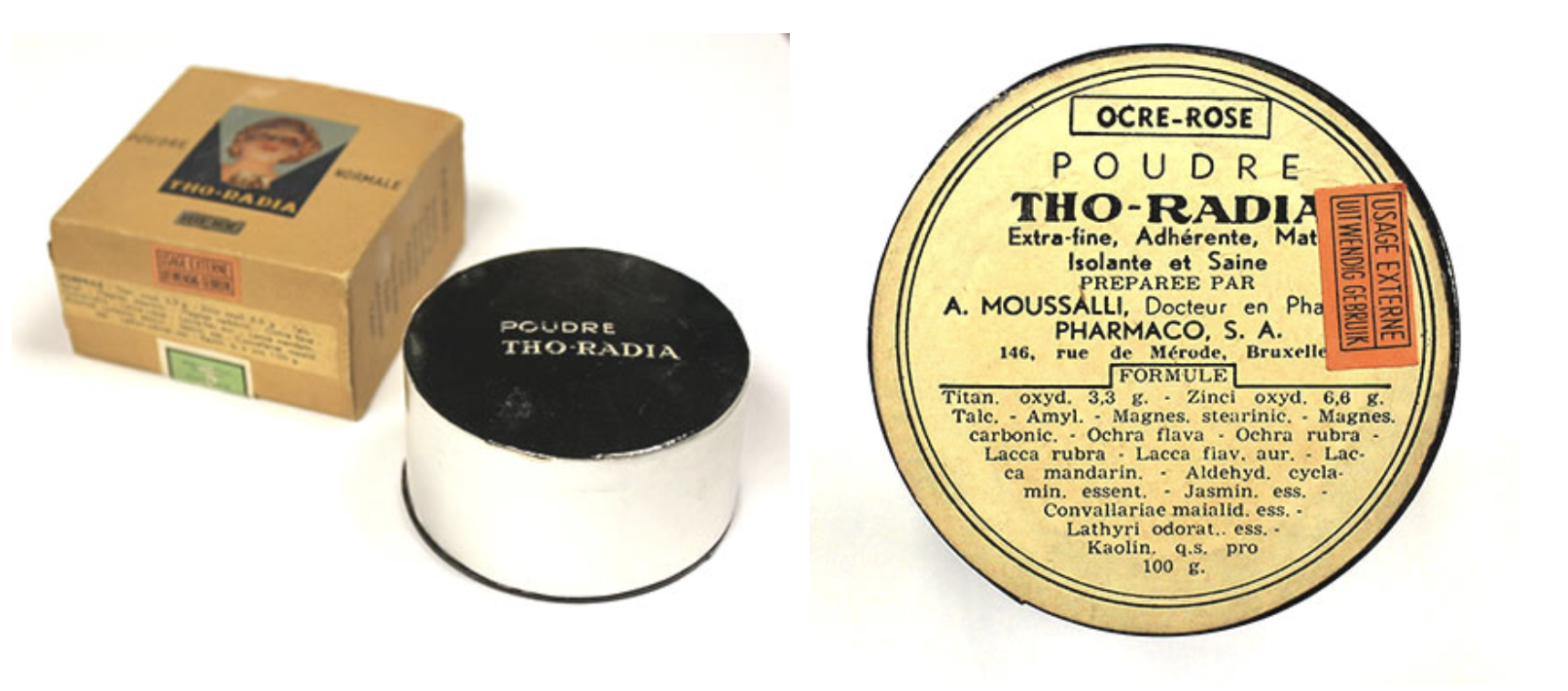 1937: A Watershed Year for Tho-Radia Products
In 1937 a dramatic change was forced upon Tho-Radia when the French government placed significant restrictions on the sale of products that contained thorium and radium. In response, the company seems to have stopped the use of these ingredients (Lefebvre and Raynal). Despite the basis for its name, no longer would Tho-Radia contain thorium or radium. That same year, 1937, the Tho-Radia trademark was transferred to Alexis Moussalli. Alfred Curie and Tho-Radia went their separate ways.
From then until its demise, Tho-Radia had its ups and downs. World War II was a low point, particularly for Moussalli. On the other hand, the late 1940s and 1950s were a time of rapid expansion and publicity for the company. The end came in the early 1960s, primarily due to marketing inroads made by competitors.
Tho-Radia Lipstick (1940s, 1950s)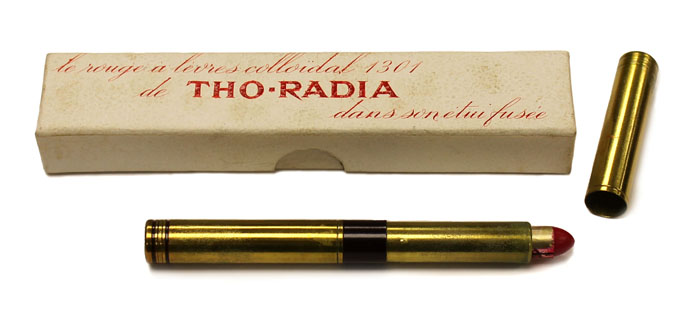 Size: ca. 1" x 6" x 0.75" (box); ca. 5" long x 0.5" diameter (lipstick tube)
The text on the box reads:
"le rouge à lèvres colloïdal 1301 de THO-RADIA dans son étui fusée"
A rough translation might be "Tho-Radia Colloidal 1301 lipstick in a tubular case."
The lipstick is not measurably radioactive—at least with an end window GM.
Tho-Radia Fard Poudre De Luxe (1940s, 1950s)
Translated literally, "Fard Poudre" means "blush powder," something we (in the U.S.) might call rouge or blush.
Like the other Tho-Radia products in the collection, this item is not measurably radioactive.
Manufactured by Laboratoires Tho-Radia, Paris France
Size: ca. 2.25" diameter, 0.5" high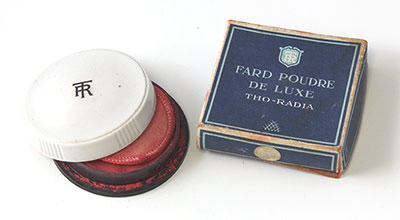 Reference
Lefebvre, T., Raynal, C. La Mystere Tho-Radia. De Memoire de Medecin.