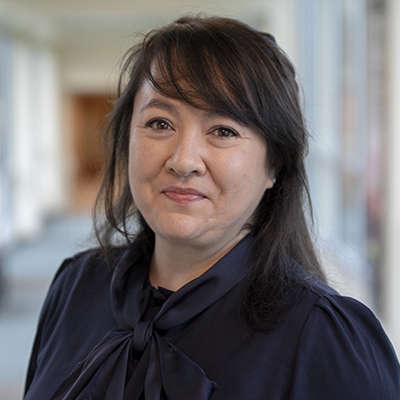 ORAU Research and Evaluation Specialist and Senior Scientist Julie Crumly, Ph.D., enjoys a challenge. 
"The landscape in preparedness is fast-paced and constantly changing, which is challenging but also rewarding," explained Crumly. "You have the ability to potentially make an impact on people's lives in a short amount of time."
Crumly first became interested in using her evaluation skills and expertise to help with preparedness after the Tornado Super Outbreak in 2011.
"I was living in Alabama during the Super Outbreak of 2011, and the devastation really left an impression on me," said Crumly. "It was after that string of disasters that I really became interested in the field of preparedness and how it can be paired with evaluation."
After joining ORAU in 2012, Crumly began searching for ways she could use her expertise to assist in the company's preparedness programs. As an evaluation specialist, Crumly helps to move projects forward in an efficient, data-driven manner that matches the specific need and audience.
When the Centers for Disease Control and Prevention (CDC) presented ORAU with a new project in 2018, Crumly's extensive background in program evaluation and data analytics, paired with her experience and interest in preparedness, made her the perfect fit for this study.
"It is rewarding to know that our work in evaluation could potentially help save lives should a public health emergency occur, like the situation we find ourselves in with COVID-19."
The study, which had never been attempted in the United States, involved evaluating the nation's readiness for a public health emergency. Crumly worked with CDC to analyze the data CDC had been collecting quarterly, which outlined the readiness levels and preparedness of more than 300 jurisdictions across the United States.
"Each jurisdiction included in the study is required to submit a medical countermeasure (MCM) action plan to CDC as part of their operational readiness review," explained Crumly. "Medical countermeasures are medicines and other medical supplies that may be needed during an emergency, including chemical, biological, radiological or nuclear events, emerging infectious diseases and natural disasters."
Using both qualitative and quantitative analysis, Crumly was able to analyze all of the data gathered from the 2016 to 2017 and 2018 to 2019 MCM plans. In general, she found that most of the jurisdictions are planning for the same types of problems. Examination of this data helped to pinpoint where jurisdictions are, identify barriers to achieving goals outlined in the action plans, identify needed resources and tools and make better, more informed decisions as to the allocation of resources.
"As a result of our evaluation, CDC made numerous changes in the types of data they request from jurisdictions and how that data is actually collected," said Crumly. "It is rewarding to know that our work in evaluation could potentially help save lives should a public health emergency occur, like the situation we find ourselves in with COVID-19."