ORAU annual report shines spotlight on thriving research enterprise, contract wins, diversity initiatives and much more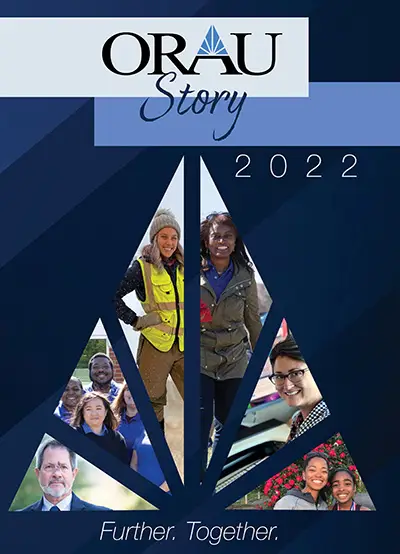 Oak Ridge, Tenn.—ORAU is and has always been a research institution, from the earliest days of studying radiation safety and nuclear medicine to more current work in atmospheric sciences, health communication, human subjects research and more.
Our annual report, ORAU Story, 2022, puts a spotlight on our thriving research enterprise and how the ORAU Research and University Partnerships Office continues to position the organization to be even better equipped to conduct research independently and for our federal agency customers and industry partners in the years ahead. In addition to conducting at least $15 million in research for our federal agency customers, ORAU also funds research through our ORAU-Directed Research and Development (ODRD) Program, the Ralph E. Powe Junior Faculty Enhancement Awards, and the ORAU Thought Leadership Awards.
The publication also celebrates major contract wins, including retaining the contract to manage research support for the Army Research Laboratory (ARL); being selected as a prime contractor to provide communication services under the Substance Abuse and Mental Health Service Administration (SAMHSA) indefinite delivery indefinite quantity vehicle; and being selected as a subcontractor for the Veterans Health Administration (VHA) Accelerating VA Innovation and Learning (AVAIL) program. We also marked the first full year of managing the NASA Postdoctoral Program, which returned to ORAU in 2021.
ORAU Story, 2022, celebrates the 30th birthday of the ORAU Diversity Council and reasserts the organization's commitment to advancing diversity, equity, inclusion and accessibility in all aspects of our business. This includes leading the effort to establish the Space Act Agreement between NASA and ORAU, and ongoing promotion at Historically Black Colleges and Universities and Minority Serving Institutions so all students have equal access to opportunities at agencies ORAU supports.
Features on the good work of our employees, how ORAU gives back to the communities in which we do business, and how we continue to work in K-12 science, technology, engineering and mathematics (STEM) are also included in this year's publication.
"We created ORAU Story to highlight the most interesting and compelling stories that defined our year," said Andy Page, ORAU president and CEO. "The information in this year's publication defined 2022 for us, while also giving a nod to where we are headed as a company."
ORAU Story, 2022, is available on our website at https://orau.org/news/annual-report.html.
About ORAU
ORAU, a 501(c)(3) nonprofit corporation, provides science, health and workforce solutions that address national priorities and serve the public interest. Through our specialized teams of experts and access to a consortium of more than 150 major Ph.D.-granting institutions, ORAU works with federal, state, local and commercial customers to provide innovative scientific and technical solutions and help advance their missions. ORAU manages the Oak Ridge Institute for Science and Education (ORISE) for the U.S. Department of Energy (DOE).
Media Contacts
Pam Bonee
Director
,
Communications
Work

:

865.576.3146
Cell

:

865.603.5142
Pam.Bonee@orau.org