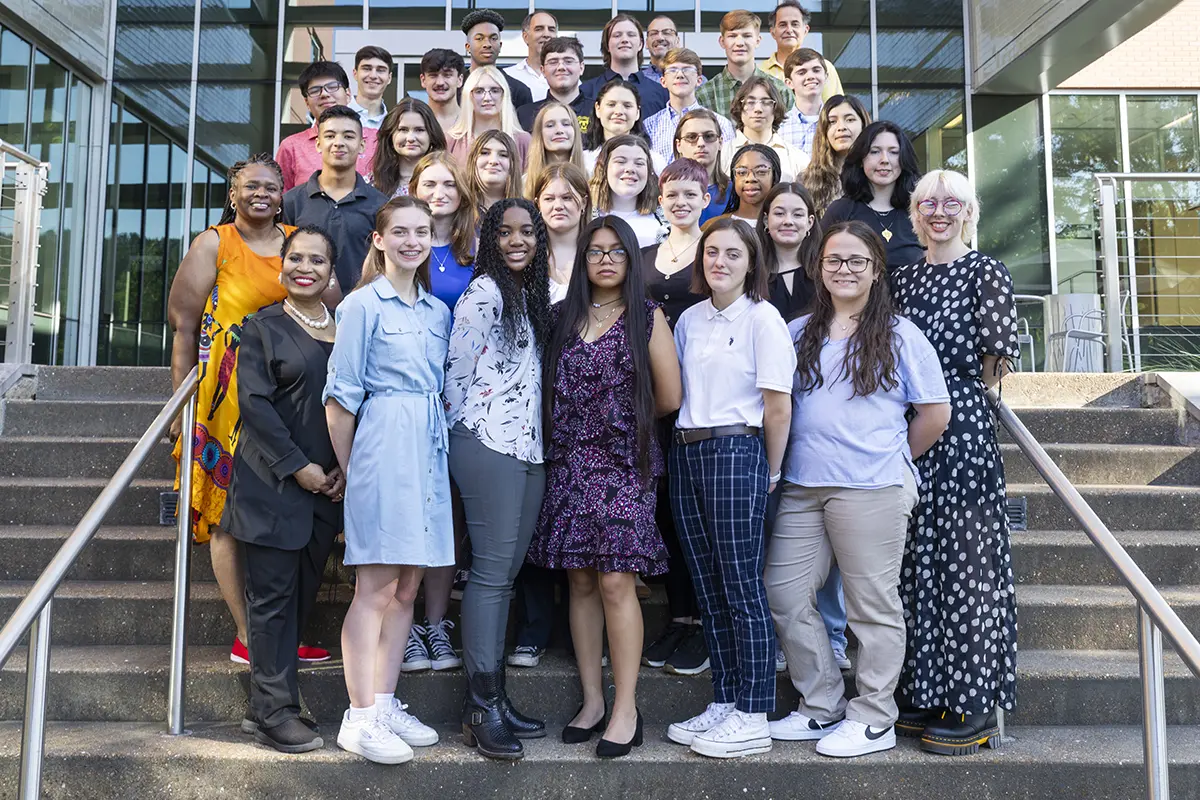 The Appalachian Regional Commission's (ARC) Appalachian STEM Academy at Oak Ridge took place from July 8-21 and is a hands-on learning experience for middle and high school students, as well as teachers. The program is a gateway to science, technology, engineering, and math (STEM) in the Appalachian region. It unveils all sorts of new opportunities for students and teachers to learn about the latest technology that is in the world today. Many participants come from economically distressed counties, and this experience increases their exposure to applied science and STEM. The program is split into four different age categories: middle school students, bridge students (those students transitioning from middle to high school), high school students, and high school teachers.
For the middle schoolers, the Appalachian STEM Academy at Oak Ridge is a unique opportunity for students to work in collaborative teams with experienced teachers to utilize current technology to answer a research question. Using techniques such as 3D printing and AI, each group is tasked with solving a problem that they have noticed in their communities, such as inefficient access to healthcare and better forms of transportation. Students work in specific teams during the one-week academy, with each team comprising 8-10 students. The team approach provides an opportunity to collaboratively tackle a specific research topic and investigate it using a hands-on, inquiry-based approach.
"I have a couple of cousins, and one was accepted into this program in 2014. She thought that it would be an amazing experience for me. I want to be a pediatric surgeon, and she said this would lead me to that point," said participant Emma Comer, an eighth grader from Monroe County Middle School in Tompkinsville, Kentucky. "I am amazed at the people here; they are all so wonderful. Personally, I love doing research so this is a happy place for me where I can express my feelings and really be myself."
The bridge and high school programs are a two-week, fully funded experience that gives students the chance to explore a multitude of scientific fields, including biology, computer science, and engineering. For example, the students visit the West Knox Utility District and tour the Membrane Water Treatment facility. All participants also work with scientists from Oak Ridge National Laboratory, one of the largest U.S. Department of Energy research facilities in the United States, and other experts to conduct guided group science, math, and computer science technology research projects. The program culminates in a final group presentation where participants showcase their work.
"I was most excited about the opportunity of going to a national lab; like how cool is that?" said Sarah Smith, an 11th grader from Woodland High School in Cartersville, Georgia. "I am really into research, and I just wanted to check out how labs actually work. There are so many reactors and places that we have toured, I have learned so much."
In addition to the student programs, the Appalachian STEM Academy also provides an amazing opportunity for teachers. For high school teachers, the academy is a two-week summer program that allows participants to interact and work with scientists from Oak Ridge National Laboratory and other STEM experts on inquiry-based, applied projects in science, math, and research-related computer technology. Not only do the teachers learn about STEM subjects, but they also take away lessons that can be shared with their students in the classroom.
"From new teachers to teachers with 20 years of experience, they will learn something and have an amazing experience," said Valerie Hinton, a high school mathematics teacher from Greensboro High School in Greensboro, Alabama. "I can't wait to help relate some of the things we do in the classroom to this experience". Throughout the two-week program, teachers are able to tour different labs within ORNL and gain insight on all the opportunities for students who want to learn more about a variety of STEM subjects and careers. "There are so many opportunities out there for students with the internships that are being promoted. I'm from a rural and economically challenged school system, so this exposure would allow students to take back things they never thought they would see in their lifetime."
In addition to the Appalachian STEM Academy, ORAU hosts several professional development programs throughout the year for both educators and students who are interested in STEM subjects.